---
Canyonside Christian School
---
Helping Students Grow Academically & Spiritually
---
Canyonside Christian School is a non-denominational, Evangelical Christian school that offers a Christ-centered education to students. The school has a strong commitment to academic excellence and Christian values. Its curriculum includes traditional subjects as well as music, art, and sports. Established in 1991, Canyonside Christian School has been providing high-quality and faith-based education to students for over 30 years! 
With the Jerome and Twin Falls communities growing rapidly, the team at CCS felt like it was time for a new look. They wanted to make sure that their website, logo, and overall brand feel were an accurate reflection of the level of quality that parents and students can expect from the school. The overall goal of this project was to refresh the brand and create a modern website that would effectively communicate the school's values and attract prospective students and their families.
---
---
Copywriting & Brand Messaging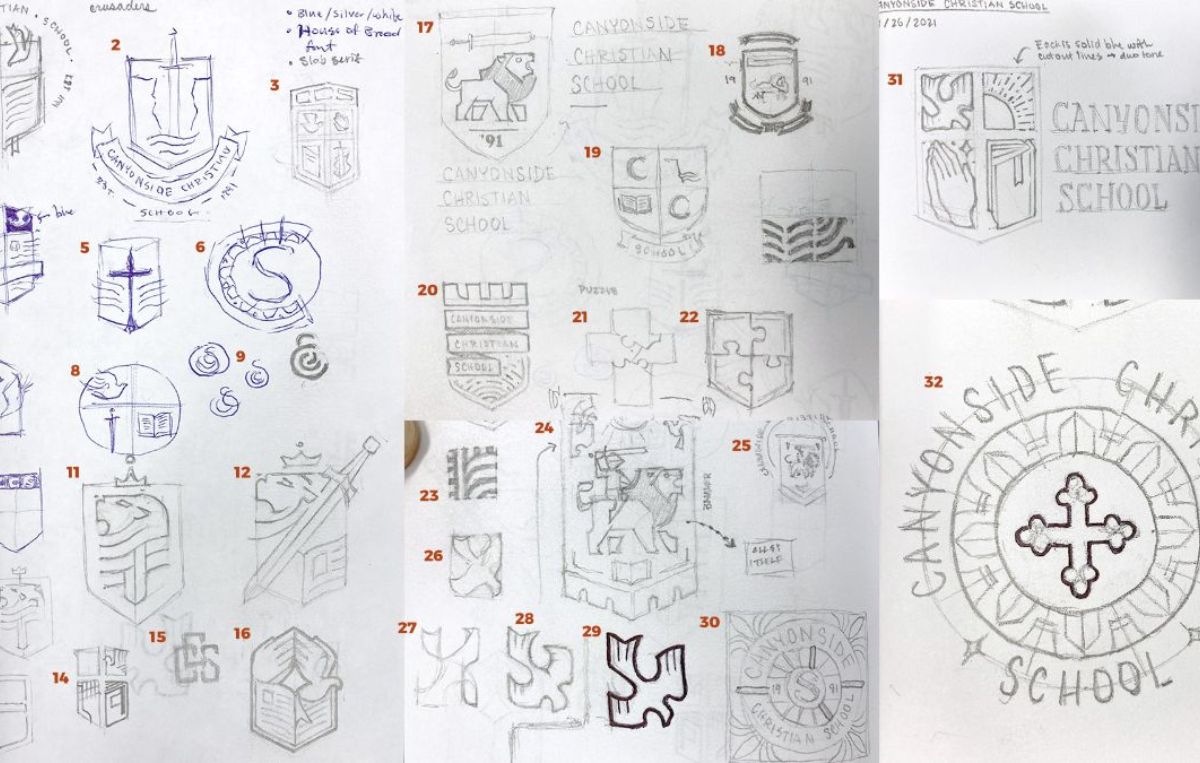 Logo Creation & Brand Standards
The Logo
---
Canyonside Christian School was already an established organization with an existing brand when they came to us. Our role as branding experts was to help create a new logo and a cohesive visual brand that would help them communicate their professionalism and commitment to providing high-quality education.
To help bring the brand into the modern day, we started with a logo redesign. After presenting the client with several sketched iterations, our design team went to work digitizing the CCS team's favorite logo previews. From there, it was a simple back and forth to help nail down specific tweaks to the design in order to deliver a perfect logo!
---
Once the logo was completed, we went to work refreshing Canyonside Christian School's existing brand guidelines. This involved creating a new color palette, outlining best practices for implementing the brand, and outlining logo usage guidelines. All of these steps together make up the "Brand Standards Guide," a handbook that the team at CCS can use in all of their marketing and communications to keep their brand consistent. At Rinard Media, we believe that consistency is the key to an effective brand, and brand standards guides make it easier for clients to keep that consistent feeling across all of their different platforms. Learn more about our branding process by checking out our article,
All About Branding
.
---
The design process began with a thorough analysis of the school's current website and an in-depth discovery meeting. A discovery meeting helps us get to know our clients, figure out their goals, and then plan together on the best way to achieve those goals! Since Canyonside Christian School came to us with an existing website, we had plenty of material to reference!
The website redesign has helped set the tone for the quality that parents and students can expect to get from Canyonside Christian School. The concept for the new website was to create a clean, modern design that would showcase the school's values and highlight its unique offerings. Our in-depth web design process allows us to create beautiful and functional websites that achieve the CLIENT'S goals, as well as serve their customer base. The steps of our website design process are detailed below:
---
This website design process began with a thorough discovery meeting. We began by sitting down with the team from Canyonside Christian School to figure out what they needed in a website.
In this case, the website needed to act as an information center for current parents of students and for prospective families. The site needed to be a repository of information about the current school year, and accurately represent Canyonside Christian School's mission. To make sure that we could help CCS achieve all of those goals, we went through a thorough wireframing and mockup phase for the web design to make sure they got exactly what they needed.
---
Wireframing: The website wireframing step is our first step in the creative process. This stage of the process involves creating a very sparse prototype of what the website will look like, taking into account all of the different features and functionality that will need to be present. It lays out the general homepage and subpage navigation, as well as the location of text, images, and other web design elements. This step is important to help nail down where features and widgets will live in the final site build.
Mockup: A website mockup is a more detailed iteration of the wireframe. It serves as a 1:1 visual representation of what the final website will look like. This stage of the process is highly collaborative! We worked closely with the team at Canyonside Christian School to make edits to the layout, minor text changes, and select photos for the final site. Once the website mockup is approved, we can then begin the development stage!
3. Web Development & Launch
---
Website development is exactly what it sounds like — this is the stage where we build a website! Canyonside Christian School was built using WordPress, which we decided would be the right platform for this project. Once the website has been fully developed and is functional, we can then take it live!
Let no one despise you for your youth, but set the believers an example in speech, in conduct, in love, in faith, in purity.
---
---
We mentioned in the beginning that Canyonside Christian School already had a website when they came to us. Our role was to update the existing site structure and revise the existing content. Using the original website content as a starting point, we applied the Storybrand Messaging Framework to the homepage content to make it even simpler for users to read and understand. Clarity is the key to effective website messaging, and using Storybrand to streamline information allowed us to help CCS communicate their message loud and clear.
---
A Day in the Life of Our Students
---