---
Innovative Medical Imaging
---
Healthcare With a Bigger Picture in Mind
---
Innovative Medical Imaging is an independent medical imaging provider located in Twin Falls. They put in a lot of work to make sure that their office is unique, comfortable, and welcoming to all of their visitors. Our job was to come alongside them and help grow their brand and curate an online presence that could reflect their hospitality. A healthy digital presence is vital for healthcare providers like IMI to achieve their mission of improving the health of people all around the community. The more people they reach online, the more people they can help!
---
Creating an Ultra Sound Brand
---
When we first met with Dr. Cameron Evans and his wife and business partner Mendi Evans, we could tell they were on a mission! They wanted to give patients in the Magic Valley options on where to seek care. As an independent medical imaging center, they needed a solid brand that would clearly communicate to their customers who they are and what they do.
---
First on the agenda was to collaborate with Dr. & Mrs. Evans and come up with a cohesive brand identity. With that identity in mind, we crafted a unique and distinct logo for their business! Finally, we built a brand standards guide that Innovative's team can use to clarify their messaging and inform the way that they interact with customers. 
Branding is a mix of everything that you and your team do, so it's important to make sure that every interaction is on brand. A brand standards guide acts as a useful cheat sheet on how to make sure your business and your messaging stay consistent with your brand.
Designing a Magnetic Site That Resonates With Patients
---
We mentioned at the beginning that Innovative put in a lot of work when designing their building. Some of their patients have said that it feels more like a day spa than a medical provider's office! We wanted to do that image justice with their site, while still communicating expertise and authority. The site heavily features real on-site photography of their office, and has a straightforward and simple-to-understand layout that makes it easy for patients to find the information they need.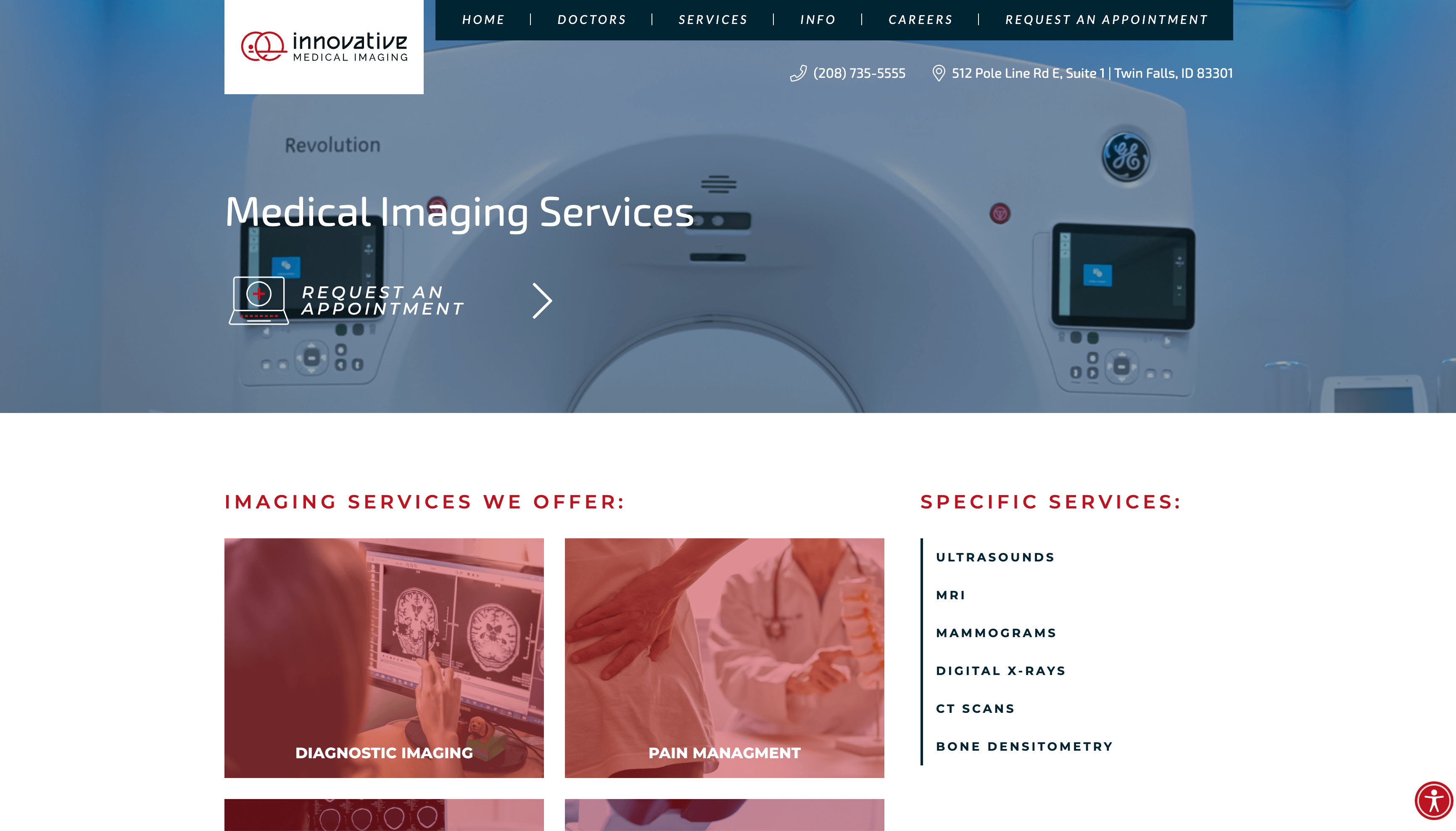 Getting Onto Google's Radar
---
We LOVE building cool websites. In order for a site to succeed and draw in organic traffic, Google needs to love a site, too. <a href="https://rinardmedia.com/service/seo/", style="color:#000000">Search Engine Optimization (SEO for short) </a>should help bring a business to the top of the search results on Google. Once a business has made its home on the front page, it's easy for prospective customers to find the services they need after a quick search.
SEO is a complex beast. A LOT of work goes into making a site engaging, keyword optimized, and user friendly. What we're saying is that everyone on our Digital Marketing team are basically wizards. Rather than try and spill their wizardy secrets, we'll let the results speak for themselves!
Referring Sites: 40+
Total Backlinks: 120+
Total Leads* Generated in 2022: 5000+
---
*Total leads include phone calls from the Google Business Profile, calls made directly from the website call button, and website form submissions.
Crafting a Social Image Through Video Ads
---
Social media platforms are an often underutilized resource. We've found that this is especially true for medical offices. For businesses that have a friendly and welcoming brand, like Innovative Medical Imaging, social media offers a golden opportunity to connect with potential patients and community members alike. Innovative's monthly video campaigns share useful and valuable information with their patients. Freely sharing this content helps them establish rapport with people around the community and also position themselves as experts in their field. Check out some of their social media campaigns below.